OK, you have your brisket perfectly cooked and ready to melt in your mouth. Then you look down on your plate and see nothing else on it. That's not good. Luckily for you, there are several easy to make side dishes that go great with brisket! I personally love red beans and rice, but some other great sides include creamy coleslaw, cowboy beans, and new potato salad. I am getting hungry just thinking about it!
RED BEANS AND RICE:
A Texas staple! Much like brisket, the key to making this is "low and slow", except this is made on a stovetop and not on a grill. To get all the flavors blended together perfectly, and to have it the right consistency, you are going to need to devote about 5 hours of your day to this recipe. This makes it great for brisket, since you can start making it while the brisket is still smoking. You are going to want to get dry beans in a bag, not canned beans. Using canned beans instead of dry beans will have a large negative effect on your red beans and rice, so don't do it. Here is the recipe:
Ingredients:
1.5 cups dried red or pinto beans
6 cups water
3 carrots, grated
3 medium onions, chopped
8 strips of bacon, diced
5 cups chicken stock(I substitute beef stock)*
dash of garlic salt
1.5 teaspoons ground cumin
1 bay leaf
1 cup uncooked white rice (do not use instant rice--should not have to type that, but I do anyways)
*Perfectly OK to substitute bullion for liquid stock, since adding bullion to water creates stock.


Directions:


1) Rinse and check over beans, throwing out any of the beans that don't pass your muster. Combine beans and water in a large pot, bringing to boil for 45 minutes. After done cooking, drain.
2) In a separate pan or skillet, saute bacon, carrots, and onion until it becomes softened and translucent, but not so much as to brown it.
3) Take drained beans and skillet mixture, and add the chicken or beef stock to it. Set timer for 15 minutes and cook over medium heat. Take spice mixture, stir in, put lid on, and turn down heat to a simmer for about 2 hours or until the beans have gotten soft.
4) Add rice, and if need be, more chicken or beef stock. Continue to simmer for 1 more hour. Salt as needed.
This goes so well with smoked brisket, I would have to say this is my "unofficial" side dish that I always serve. In fact, it is so good, this recipe won a Blue Ribbon at the Texas State Fair!
COWBOY BEANS
: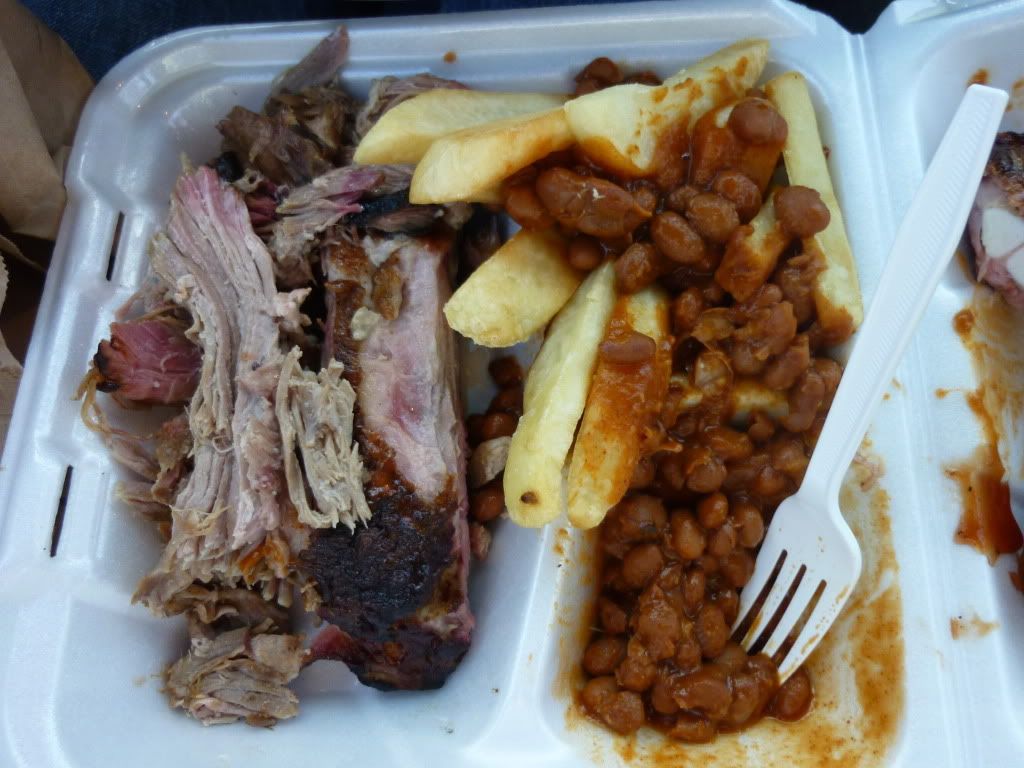 In Texas, no matter what type of beans the recipe calls for, there, in parenthesis, next to that bean are the words "or pinto beans". Pinto beans, if they are not already, should be the state bean of Texas. Here is a recipe for something called Cowboy Beans, which makes use of the "burnt ends" of the brisket to add some great flavor to the beans. Again, this is a great recipe to go with brisket, as the preparation time is about 3 hours. It will give you plenty of time to make these!
Ingredients:
1 pound dried pinto beans(1 16 ounce bag)
8 cups water
2 cups brisket burnt ends, chopped
1 14 ounce can whole tomatoes
1 large onion, chopped
1 cup barbecue sauce(the Texas Mop Sauce works great!)
6 cloves garlic, minced
3 jalapeno peppers, seeded and chopped
1 tablespoon chili powder
1 tablespoon Worcestershire sauce


Directions:
1) Wash and rinse beans and pour into large pan.
2) Toss in everything else but the salt, including the kitchen sink(no, just kidding!)
3) Stir gently while bringing to a boil. Lower heat, cover with lid and simmer for two hours.
4) Stir occasionally, making sure to lift up beans from the bottom to prevent sticking.
5) Add salt after 1 hour.
Beans are cooked when they are soft to the touch, but still hold their shape.
SOUTHERN STYLE CREAMY COLESLAW: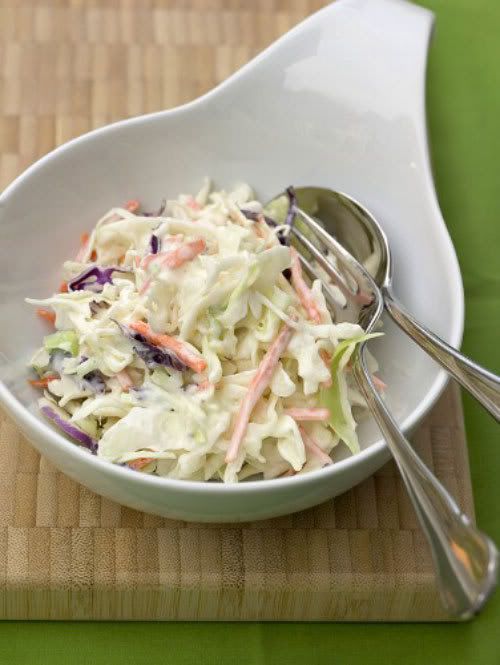 This coleslaw recipe is so good, I could almost skip the meat and just get a big plate of the coleslaw to eat. Personally I like to add a little bit more mayonnaise than what the recipe calls for, but that is up to your personal taste. This makes roughly 8 servings, so just double or triple the recipe if cooking for large groups.
Ingredients for dressing:
1 tablespoon distilled vinegar(white vinegar, not cider!)
1/2 cup mayonnaise(I like using Olive Oil mayonnaise and probably put about 2/3 of a cup in)
1 tablespoon white sugar
1/4 teaspoon salt
1/4 teaspoon ground black pepper
1/2 teaspoon celery seeds(NOT celery salt--personally, I don't add celery seeds)
Ingredients for the slaw:
1/2 head green cabbage
1/2 head red cabbage
1 large carrot, peeled
1/2 small white onion
Optional: 1/2 red or green bell pepper, thinly sliced
Optional: 3 radishes, thinly sliced
Optional: 1 small minced jalapeno if you like it hot, or add some chipotle powder.

Directions:
1) Either slice, chop or food process both heads of cabbage, carrot, onion and any of the optional ingredients together.
2) Mix in dressing well with clean hands, and refrigerate for at least one hour.
TEXAS NEW POTATO SALAD
:
A mustardy potato salad that goes tremendously well with brisket. In some ways pretty similar to a German potato salad, but in other ways slightly different. Anyone who loves mustard will definitely love this potato salad, and probably many people who don't particularly like mustard might become new converts!
Ingredients:
2 pounds of red new potatoes, diced and cubed but unpeeled
2 celery stalks, diced
2 green onions, sliced(aka scallions in some parts of the country)
1/4 cup of apple cider vinegar
1/4 cup of bread and butter pickles, diced(can use bread and butter jalapenos for extra kick)
1/4 cup of yellow mustard
1/4 cup of mayonnaise
1/2 teaspoon paprika
1 teaspoon bread and butter pickle juice(or jalapeno pickle juice)
Salt and black pepper to taste
Optional: Hot sauce to taste(it goes with everything remember??)
1) Put potatoes and cover with water in a large pot. Bring to a boil ,and cook until tender, or about 15 minutes. You want them to be tender, but not mushy.


2) Drain and rinse potatoes in cold water. Mix in vinegar and salt, and let cool in the fridge for 30 minutes.

3) Once the potatoes have cooled, stir in the mustard and mayonnaise gently, and then toss in the remaining ingredients.

Serves four to six.
Notes: Some people add dill pickles and sliced eggs to the salad, and this comes out pretty good as well. Potatoes are unpeeled, but can peel them if you don't like the skins. Can substitute red potatoes with any other type of potato, if desired.
Well, there you have it. Four mouth watering and delicious sides that go with and enhance the brisket experience for you and your guests! Make them all, or just make one or two. It is completely at your discretion. Just remember, whatever you do to stay smoky my friend!
Wanting to learn how to create beef brisket from start to finish? Check out my
Brisket Smoking article!